Randomocity
I feel like a bad blogger. I haven't been keeping up with this blog like I used to, and the stuff that I do blog about is mostly just nonsense and blabber. A lot of the folks that I regularly read haven't been blogging as much lately, either. I'm wondering if maybe the big blog craze is dying out? Either way, I'm not abandoning ship, just struggling to find anything blogworthy to write about.
I've recently joined a round robin poetry group, and I'm enjoying the idea of focusing on writing again after all these years of not writing at all. I've never had a love affair with any of the poems that I've written, but just the process of writing again is enjoyable. And I'm in the company of some phenomenal writers, so it makes me work extra hard not to sound like an idiot.
I've been doing a lot of baking again. There's just something so relaxing about it! I love my KitchenAid mixer. It is, besides the coffee maker, the most used appliance in my kitchen. Jonas loves to help me, too. He's so smart! When I ask him if he wants to help me make dough, he'll say "Sure Mama, I'll get flour, sugar, egg." Cute!
Here's a pic of him helping me roll out some pizza crust.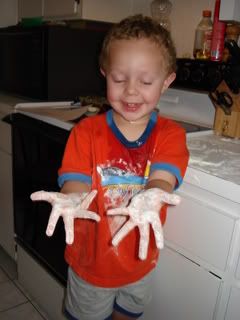 And we've also taken a detour into the world of sweets lately. I'm not a big candy and chocolate fiend, but I do enjoy it from time to time. Here's J after helping to make a batch of fudge. Obviously, he has more of an affinity for it than I do.
In domestic news, we finally gave in last weekend and bought the gazebo that we've been wanting forever. Actually, it's a screened porch that we really want, but that's serious money. This is a compromise that is much more budget friendly. Wil made it home from work early enough last night to give me a hand assembling it. In other words, he watched J and lifted things when I needed him to. I am most certainly the handyman in this family. It was actually incredibly easy to put together. Just 8 screws in the whole thing. How insane is that? Of course, it might not have been the wisest investment right at the start of hurricane season, but if it blows away, it's a heck of a lot cheaper to replace than, oh, say, a roof. :)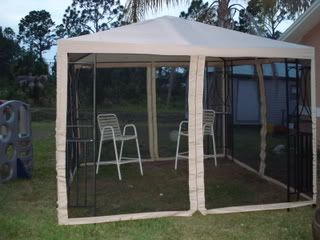 So here it is, in all it's gazeboish glory. Yes, I'm aware that it's not level. Our yard is surprisingly un-level, and so we'll have to work on leveling out a spot this weekend. But it feels good to have it assembled. Today I'm going to work on getting the patio table and chairs cleaned up and dragged around. Maybe I'll get it done in time to enjoy a dinner al fresco tonight. Certainly would be a nice treat.
There's really no news on the knitting front. I'm still stalled in sock land. I'm just not in love with the pattern of these, and they're not the quick and appealing project that socks are supposed to be. Don't get me wrong, I love the result, but any sock that includes a k4tog will probably find it's way to the bottom of my "to knit" pile in the future.
I did do a swatch yesterday for a sweater I think I'm going to try. I'm about 1/2 stitch off on my gauge, but I'm wondering if I should just call that close enough? I'm a terrible swatcher and I admit it. Despite the fact that I KNOW it's saving me a buttload of time and heartache, I just don't have the patience for doing lots and lots of swatching. Bad knitter! No matter, I won't be getting started on the actual project for a while yet. More on that later. For now, I've got a little boy who needs to be convinced that it's potty time.