More sweater pics
Here it is done, with buttons and all.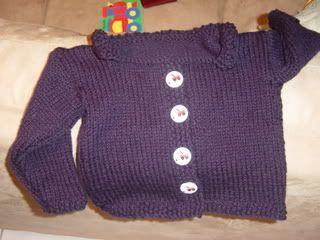 And modeled by a less-than-enthusiastic J-man. Of course, who would want to model something like this in 90 degree weather?
I've been thinking about what I want to do with this. I mean, it's pretty plain and boring. I think I've settled on duplicate stitching a fire hydrant on the back. With the little dalmations on the buttons, I think it'll turn out cute, and a little humorous. But, since there's at least another month or so of warm weather ahead of us, I'll pack it away for now and come back to it after I've done some of my holiday knitting. Besides, I've never actually done any duplicate stitching, and should probably give it a try on something smaller first, right?