J-man (doesn't) carve pumpkins.
My son is a bit obsessive-compulsive about things like dirty hands and untied shoes, so it came as no surprise that he refused to touch pumpkin guts today. He was braver than I thought he'd be, though. He sat watching me dig them out with my hands and repeated "Punkin... eeewwwww!" with every squishy handful. And I was able to get him to at least dig around with a spoon, so he took part, at least in a small way, with carving his pumpkins.
I probably should have just given him a paintbrush and some paints and let him decorate them how he wanted, but I guess I'm a traditionalist when it comes to halloween pumpkins.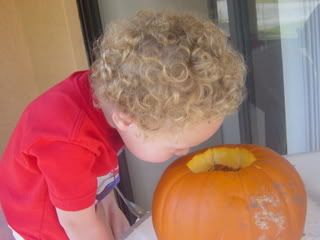 You want me to stick my hand in there?!
It's not so bad with the spoon.
Meet my friend, Jack.
And Mommy made me a Blue's Clues Punkin, too!